Wicker is a term that is often referred to something that is woven. Wicker can be a synthetic material made of various plastics or can be natural material made from rattan poles and made into smaller pieces. This will always have a special place in my heart as I have been in the industry since 1995 selling Wicker and rattan furniture.


Front Porch
Known to have smaller areas where you need something that's aesthetically pleasing and not competing with your house or not become too bulky of a setup. That is where this type of furniture shines and really comes in to play with open lattice work smaller framed furniture. You can always notice wicker rockers on front porches while on a drive throughout the neighborhood. It is very popular! Wicker is very affordable with some pieces offering fabric options that can go with your decor from a coastal theme to a cottage theme to something more tropical in a beach resort area.
Bedroom/Guest Room
Many people will know of the stereotypical girls room with
white wicker furniture
:
headboards
,
nightstand
, desk and vanity/mirror to complete her look.

Over the years a very popular product that we used to sell but has been phased out due to technology taking over were gifts that were doll carriages with strollers. These were very popular pieces and used by many little girls who would put their dolls in and stroll them around. Now with everyone getting on iPhones and iPads at an early age for entertainment this classic piece is a rare find but still nice in that kind of Decor. You can find them at tag sales and some are offered on Etsy.


Sunroom
Large open areas in their sunroom with gorgeous views showcasing their landscaping, mountains, lakes and other beautiful destinations have been a favorite extension for someones home. Wicker and
rattan furniture
holds up great in these rooms with classic designs and have the ability to showcase full tropical themes with your choice of fabrics such as Tommy Bahama by Waverly which look great and some are your regular leafy patterns even traditional flowers can be used. When we brought in our own furniture from Indonesia which by the way has the best quality rattan and Wicker, we used a photo shoot in a sunroom to showcase the natural white wicker with lattice design. This was called the Lanai collection and it was perfectly used in a sunroom using your favorite accessories this set came with a sofa, chair, rocker, and table and tables. The picture above is actually the first photo used in the early 1990's and this was our best seller for many years and continues to be a great seller on
Wicker Paradise
.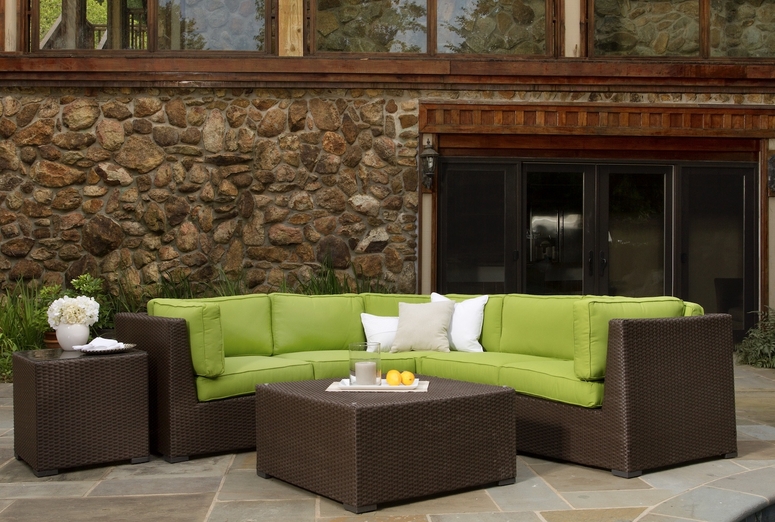 Patio/Outdoor Areas
The most popular place nowadays to use
wicker furniture
are on patios and other outdoor areas. This is because of the aluminum frames that are used which do not rust and are fashionable in many different areas. Very easy to cover in the winter or move into storage during the offseason. You also have the ability to choose a traditional or contemporary look for your home depending on the style of your home. If your home is more traditional and classic you might opt to go with a white wicker traditional lattice look, where as if you have a contemporary home you might go with the more boxed square looking sets that you've seen. Sectionals are very popular to use and what's great about Wicker is that you can use mix materials such as teak or or aluminum to mix and match your design and make it more interesting to use the outdoor area are generally used more for entertaining your guests like enjoying a nice barbecue or birthday celebration and in this set up you have the option of going with Wicker for your seating section as well as your dining section. The dining does not always have to be wicker but sometimes when you combine both you can create a beautiful aesthetic by coordinating fabrics on one pattern for the seating group and the other for the dining area.
Outdoor wicker furniture comes at many different price points with various brands that you can use some of the most popular tried and true brands are
Lane Venture
and
Lloyd Flanders
wicker furniture.
Lloyd Flanders is a loom wicker which is generally used for partially covered areas that can take limited amounts of moisture but features classic designs that have been selling since the early 1990's.  
The other brand I recommend is Lane Venture featuring more contemporary looking pieces of furniture with your outdoor aluminum framed synthetic furniture which can be used in total outdoors with the best in the market Sunbrella Fabrics. These brands can be quite pricey but when you're looking to purchase for your home it is an investment and like all investments there are good and bad investments. If you purchase a patio set that is inexpensive you run the risk of having to buy multiple patio sets in the future, where as if you purchase the best in the business you only have to make your purchase once and then over time replace the cushions as you change your home style preferences or just want a new look.
Bathroom
Another place you can use Wicker furniture is in the bathroom. Many bathrooms can use wicker wall shelves and jelly cabinets to hold various items while Wicker hampers seem to still become a very popular trend in certain areas. Trash cans are always used in bathrooms and those come in multiple colors to go with your walls and the Decor of your room. Wicker in the bathroom is generally used in summer homes, cottages and more traditional looking areas. This style can give it a nice touch and charm as well as a piece I forgot to mention which would be a wicker mirror that you can get in oval, rectangular and round sizes. Who doesn't love mirrors on their walls?
Dining Room
This last area can really depend upon the state that you live in and the overall style of your house but this is the dining room and your dining room can have a
wicker furniture
appeal by going with the weave in different colors and different styles for your chairs. Options such as using a wicker dining table or an aluminum or wood dining table to go with that this look are preferred. I've seen this in many homes over the years and the most popular state would be Florida that uses this it gives you that tropical design. It's also very popular in the Jersey shore area and North Eastern portion of the United States. The great part about wicker furniture is that it is generally lightweight so it's easy to move around and maneuver. What's great is you can either get dining chairs with arms or without arms to give your look a more cohesive appeal. For example, the head of the table getting the dining chairs with arms and the rest of the dining table without arms so it adds more personality to the actual dining room situation.

Over the years I have seen wicker furniture in countless rooms by customer submitted pictures of their look and what they purchased and one thing is for certain they've always taken pride in what they've owned and showcased everything with beautiful accessories to complete the look. Wicker can even be painted so if you are moving to a new home or apartment you can make a project of finding wicker furniture and using paint to change the color for example from a hunter green to a bright white to really give you a crisp look and refresh the area. This has been done many times and depending on what you have is the type of paint you would want to go with for the outdoor resins you would want to go with a synthetic paint that you can use for the outdoors. Although this woven look is not made for everyone it is certainly an option. A timeless classic that will never fade away in furniture design world!